Hardscapes
Mooresville Pavers
Hardscape Designer: Patios, Walkways, Walls, Firepits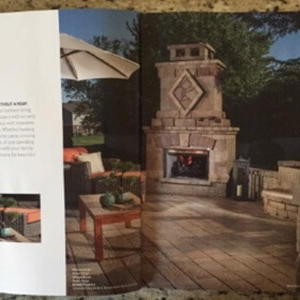 Allscape Landscaping and Lawn care is an accomplished and reputable landscaping and hardscaping design firm serving Indianapolis, Mooresville, Martinsville, Bloomington and surrounding areas. Hardscapes consist of any paved areas such as entrances, steps, driveways, parking lots, seating walls, walkways, edging, patios and decks. In a typical project, we will use gravel, pavers, natural stone, as well as retaining wall block. High profile areas such as patios and driveways are oftentimes hardscaped.
Increase Property Value and Decrease Maintenance
Homeowners often upgrade these areas because the improvements bring immediate gratification, require less maintenance and can enhance property values.
Award Winning Work
It's official! Allscape made the 2016 Belgard Hardscapes Annual Good Housekeeping Customer Catalog and the 57th annual Indiana Flower and Patio Show Hardcover Book!!
Our skilled craftsmen are able to visualize and create attractive outdoor spaces by utilizing many mediums. May it be natural stone retaining, Seating walls, Hand-Made Paver Patios and Firepits or Attractive paver-stone driveways and sidewalks. Allscape Landscaping and Lawn Care strives to bring beauty to the landscape and through all possible avenues.
For your Lawn Care and Maintenance needs, don't hesitate to contact us. Call us at (317) 281-9179 or fill out our contact form.